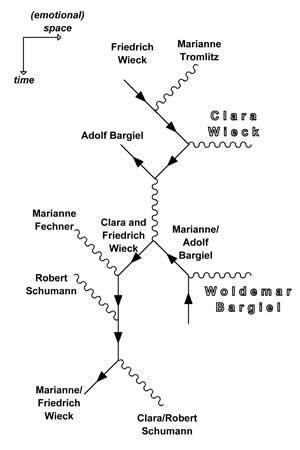 It is hard to introduce the composer Woldemar Bargiel (1828-1897) without at least some consideration of the weird mechanics of history — how history collects itself around certain figures and lets others be. On the one hand, reality was fairly kind to Bargiel: he enjoyed a comfortable career as a teacher and composer, his music was often played, and he was consistently in the orbit of those musicians whom we may now recognize as "Who's Who" in 19th-century German music. History, however, has not been so kind. Thirty years after his death, the disappearance of his music seems to have become as notable as the music that disappeared: "…his chamber music, though it sounds extremely well, has been undeservedly neglected of late" [Cobbett's Cyclopedic Survey of Chamber Music (1928)]. Nowadays, he is usually introduced (insofar as he is introduced at all) by his proximity to those whom music history has treated with more care: Woldemar Bargiel was the half-brother of Clara Schumann (who was very famous in her time) and thus the half-brother-in-law of Robert Schumann (who was not particularly famous in his time — not, at least, as a composer — but who has since become quite canonized).
The drama of Robert Schumann (1810-1856), Clara Wieck (1819-1896), and Clara's father, Friedrich Wieck (1785-1873), is fairly well known: Wieck raised Clara to be a famous pianist, which she became; Robert was a piano student (and resident at the house) of Friedrich Wieck; after years of storms, stresses, love letters, lawsuits and calumnies, Robert and Clara got married and started out on their long, strange trip. Less known, however, is the collision of the Wiecks and the Bargiels just prior to Schumann's arrival. Adolf Bargiel and Friedrich Wieck had both worked as instructors in the house of one Baron von Seckendorf in the early 1800's. In 1828, Wieck's wife, Marianne Tromblitz, removed herself from her husband's clutches and moved into the arms of his old acquaintance Bargiel. (Wieck remarried a few years later, to another Marianne, née Fechner.) These wild times at the Wieck house yielded highly stable Bargiels, highly unstable Schumanns, and irritated Wiecks: the rest is history.
Bargiel's music, like his biography, is now most quickly explained by comparison with those composers with whom we are relatively familiar. The Octet is an early work (though it wasn't published until 1877), which Bargiel wrote while still a student at Felix Mendelssohn's Leipzig Conservatoire. It is hard to imagine that Bargiel did not look to Mendelsshohn's spectacular string Octet (1825) as a model for his own, but the largest influence on the young Bargiel was unmistakably Robert Schumann: the emblematic motives, the moments of hymn-sound, and the manner of development in the Octet all seem to reflect Schumann's patterns. Bargiel is more raucous, though, and less nervous; his spirit does not wander so much. He has more leisure, derived, perhaps, from a kind of confidence in his mechanisms. His Octet lives comfortably in the modes and methods of 19th-century German art music that his near relatives (through pains, troubles, and chance) invented, defined, and passed down through what has become history.