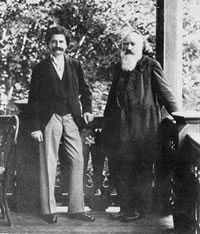 By most accounts, JOHANNES BRAHMS was a very serious person: inward, imposing, solitary, and somewhat brusque. A snapshot of him with Johann Strauss, Jr., taken in 1894, seems to bear out this assertion (at least insofar as a photograph may be taken to reflect a character). In this remarkable image, Strauss looks every bit the waltz king – a well-kept slender fellow in late middle-age; Brahms, on the other hand, looks like a cross between Methuselah and Merlin Olsen. Though Strauss was eight years older than Brahms, he would have to have been on Jupiter to match Brahms' gravitas.
Perhaps in response to the enormous pressure of his persona, the pieces Brahms chose as his favorites tended to be technically rich and unencumbered with emotional unease. The F Major Viola Quintet is a prime example. He wrote to his publisher Simrock: 'You have never before had a more beautiful piece from me.' (Swafford, p. 474) A somewhat cooler description came from Elisabeth von Herzogenberg (a former student, friend to Brahms, and wife of the conductor who came up with the idea of the'Three B's'): 'It is refreshing to see the framework exposed in such a bald, prosaic fashion.'
Negative connotations of 'prosaic' notwithstanding (and leaving out both the word 'bald' and the resemblance of 'prosaic' to 'Prozac"), this assessment has some truth in it. 'Prosaic' could well be taken in this case to mean conversational, graspable, or simply evident – as opposed to, say, 'ineffable', or some other romantically laden concept that might point toward Wagnerism. One might also take Mme. von Herzogenberg's remark particularly lightly given the wealth of invention in the piece. It is true that, generally speaking, the first movement has a block-by-block sort of phrase motion, moving clearly from one thing to the next (it is this first movement which most likely fueled her remark). The second movement, however, employs a strange strategy of entwining what would be the second (slow) and third (minuet or scherzo) movement of a conventional sonata into a single schizophrenic whole. The last movement resembles a well-fed reworking of the fugal last movement of Beethoven's String Quartet, Op. 59 no. 3, powered by a warm glee in the compositional possibilities of writing a fugue for five. (It also bears more than a passing resemblance to the last movement of the Cello Sonata, Op. 38 – see Concert of September 12.) The virtues of the piece may be more compositional than Brahms meant them to be; reception of the work has been consistently ambiguous. But it has a unique and striking mood throughout, and its sociable qualities seem to represent a warm wish on Brahms' part: sometimes not to be so pursued by history, sometimes not to be so heavy.